A two-day celebration honoring Col. Gail Halvorsen, the "Candy Bomber," took place in Provo, Utah.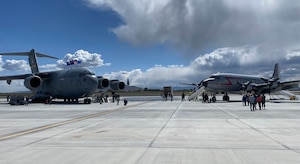 The aeromedical evacuation mission, REACH 725, marked the first operational use of the TIS since its development during the 2014 Ebola outbreak in West Africa, and the first movement of COVID-19 positive patients aboard U.S. Air Force aircraft.


The commander of Air Mobility Command selected Fairchild Air Force Base, Washington, and MacDill Air Force Base, Florida, as the relocation sites for the next two KC-135 Stratotanker pilot flight simulators.